Our team at KOKO has achieved Africa's largest deployment of IoT technology for consumer fuels, with cloud-based tracking of Fuel inventory across the supply chain.
I will let a colleague explain how our cloud software systems function another time, but I wanted to shed some light on what this actually means, day-to-day, when it comes to serving more than 100,000 household customers across Nairobi with safe access to affordable clean fuel.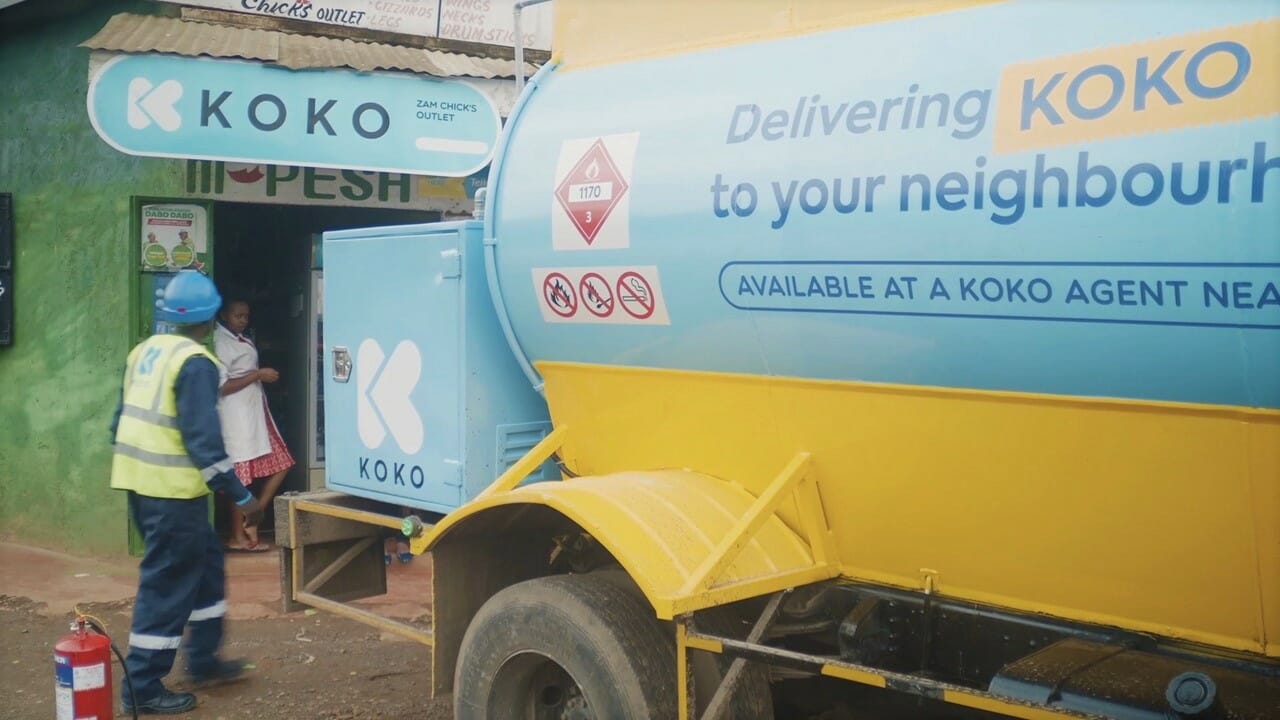 Above: a KOKO-branded MicroTanker on the daily clean fuel delivery run to a KOKO Agent shop in Nairobi
First, some context. Building all this has taken time. When I moved to KOKO from the Oil & Gas industry at the start of 2017, we were still deep in the R&D phase of our journey, developing the hardware and software solutions that would be launched at scale more than two years later. Back in those hazy days, while our engineers and technicians worked their magic, my role was really focused around business development (fuel sourcing relationships and regulatory engagement) and process building (safety and standards).
We initially managed the distribution of small fuel volumes (sourced from the Western Kenya sugar industry) in-house, as we continued to assess strategies and partners for bulk fuel supply. We always knew that existing downstream fuel companies would be the natural partners - humans are pretty efficient at distributing liquid fuels already!
So, after a successful pilot, we signed an exclusive operating partnership with Vivo Energy Kenya ("VEK") in June 2018.
Since then, we've worked closely with the VEK team to implement international best practice standards for fuel storage, transportation, handling, and last-mile distribution. As the Head of Fuel Operations (and HSE lead) at KOKO, I am like our VEK "account manager".
My team of operators, engineers, planners and quality control technicians work with our VEK counterparts to ensure we serve our customers with their fuel quality and quantity demands. We constantly assess that there is enough fuel supply across the Network today, that there will be enough supply in the future, and that we have the necessary infrastructure in place to safely store and distribute that fuel.
Day-to-day, our key tasks therefore include: reviewing processes and sourcing arrangements; demand forecasting and planning; fuel testing; fleet allocation (i.e. our fleet of last-mile fuel distribution trucks - we call them "Smart MicroTankers"); and distribution routes and prioritisation of the MicroTankers from VEK's Shell-branded stations to our Network of KOKO Point Fuel ATMs across the city.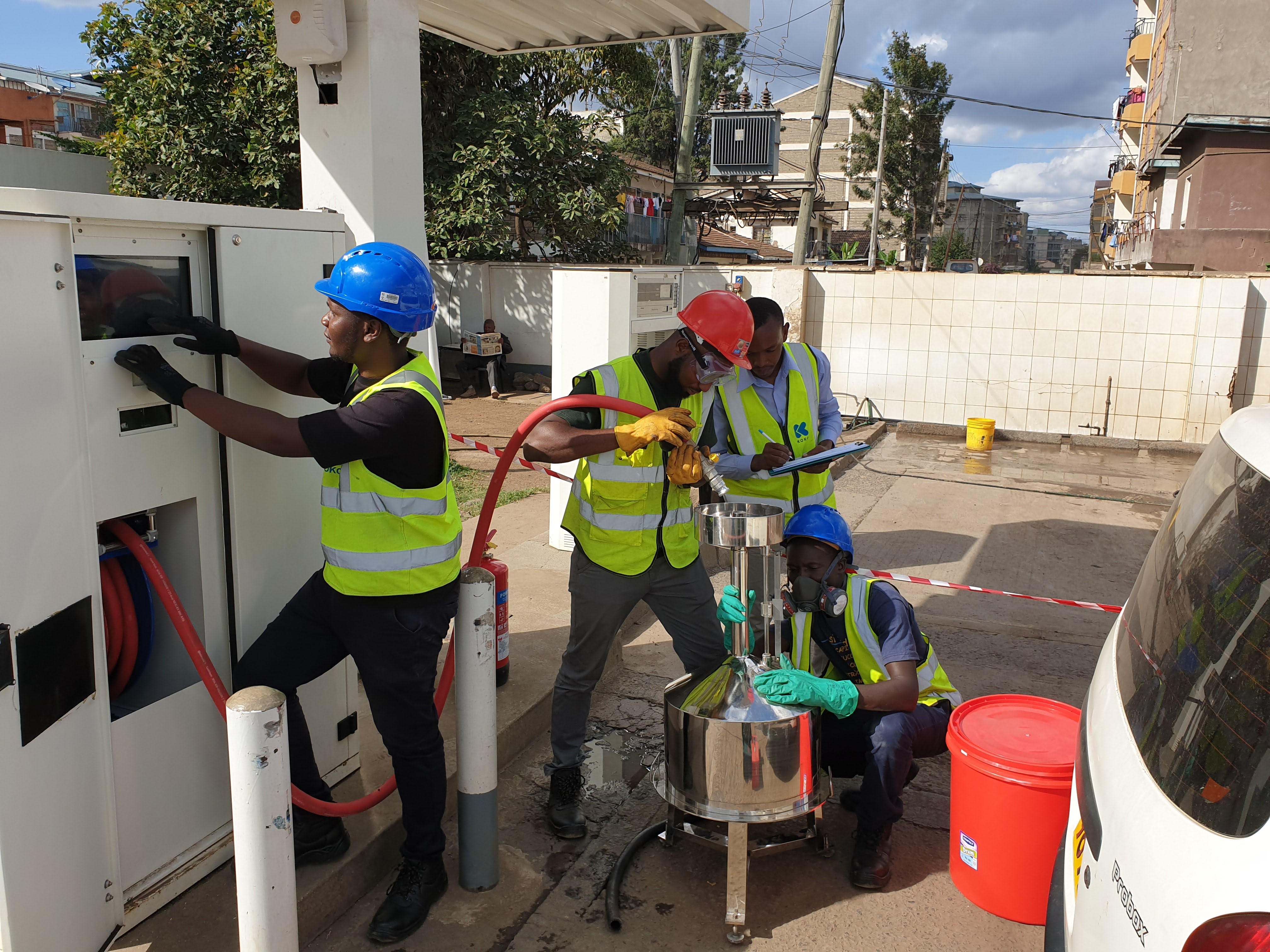 Above: Members of my team carry out final calibration checks on one of the "Smart Depot Systems" installed at various Vivo Energy Kenya's Shell-branded stations in Nairobi (2019)
As well as the focus on Safety - unsurprisingly, one of our non-negotiable priorities at KOKO (the thing about great cooking fuel is that it is of course very flammable!) - my role also involves a certain amount of capacity building, be it through developing new and existing talent as our department grows in line with the wider business. I'm also responsible for our interactions with key regulators in Kenya, including the Kenya Bureau of Standards (KEBS) and the Energy & Petroleum Regulatory Agency (ERPA).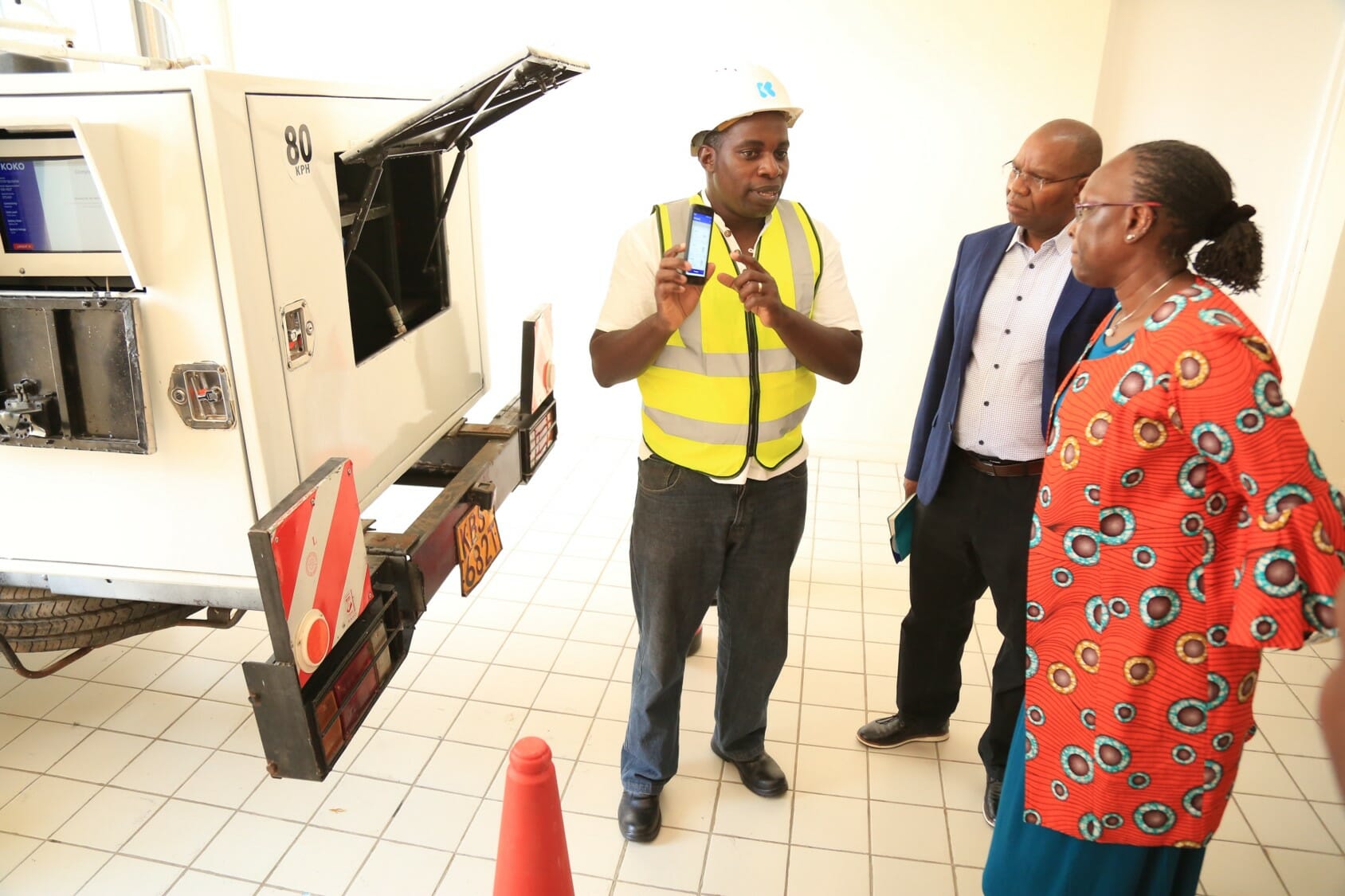 Above: in the months before our city-wide launch in 2019, we opened our Technology Production Facility in Nairobi; I had the honour of demonstrating our fuel distribution technology to CS Betty Maina, Ministry of Industrialisation & Trade (2019)
With more than 14 years in both traditional and renewable energy industries - designing, building, operating and managing fuel storage and distribution systems - it's safe to say that my journey so far with KOKO has been unique and unrivalled. But really this is an adventure that is just beginning; we want to paint household cooking across Kenya (and far beyond) KOKO-blue, so there's a lot of work to be done as we continue to scale.
But here today, in 2021, with strong customer growth (more than 100,000 in Nairobi alone) and ever-rising clean fuel demand, it is a relief to be able to point to the operational reality of what we're doing in order to demonstrate that the future for Kenya is green. I was getting a bit bored of PowerPoints!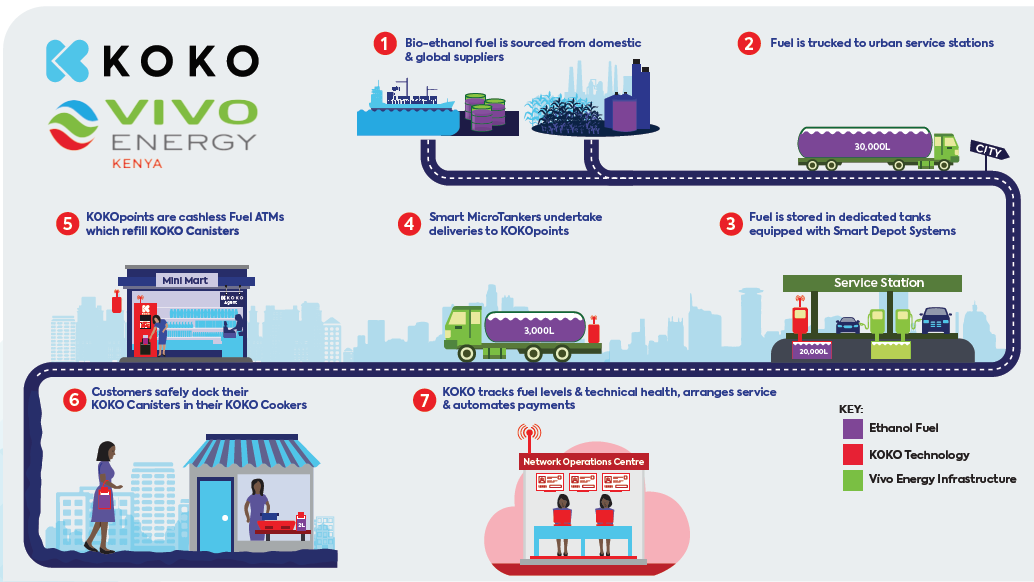 Above: an overview of KOKO and Vivo Energy Kenya's fuel supply partnership