The Financial Times has announced KOKO as a Finalist in the Developing Markets category of the FT ArcelorMittal "Boldness in Business" Awards, for 2019.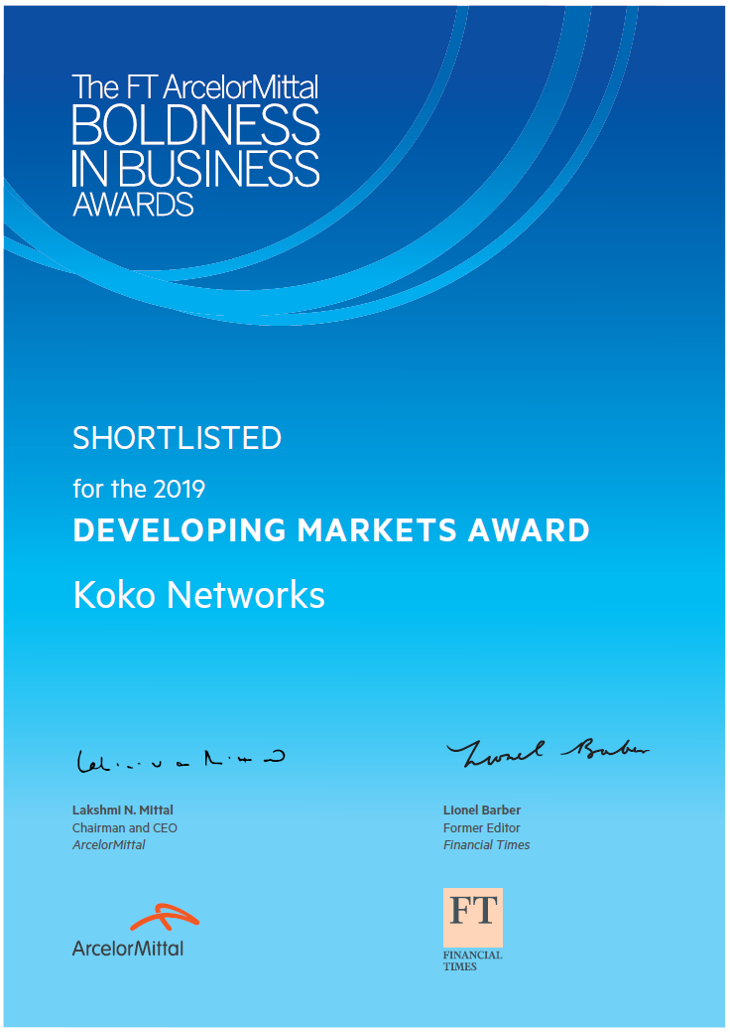 About the FT/ArcelorMittal Boldness in Business Awards:
In this volatile and unpredictable environment, the need for business to be bold has never been greater: the need for managers to think and plan beyond the short term; the need for workforces to embrace change; the need for companies, large and small, to consider how to build sustainable enterprises in a world where competition is tougher than ever. This is the context for the FT ArcelorMittal Boldness in Business Awards, now celebrating their twelfth year. Since their inception, the awards have established themselves as the premier accolades in their category, thanks to their global reach and the impressive credentials of our eight-member judging panel.
The awards feature candidates from Europe, North and South America, the Middle East and Asia-Pacific. Winners were selected by a panel of experts including Lionel Barber, Editor of the Financial Times and Lakshmi Mittal, Chairman & Chief Executive of ArcelorMittal, who based their decision on a shortlist drawn up by the FT's global network of bureau chiefs and senior journalists.
Previous award winners include, Sir Tim Berners-Lee, Sir James Dyson of Dyson, Helena Morrissey of The 30% Club, Andy Jassy of Amazon Web Services, Travis Kalanick of Uber, Moya Greene of Royal Mail, Warren Buffet, Ivan Glasenberg of Glencore; the innovators at Preferred Networks, M-KOPA, Samsung, Huawei, Apple and DeepMind Technologies; SoftBank, the Japanese telecommunications and internet corporation and UK robotics developer, Oxbotica.